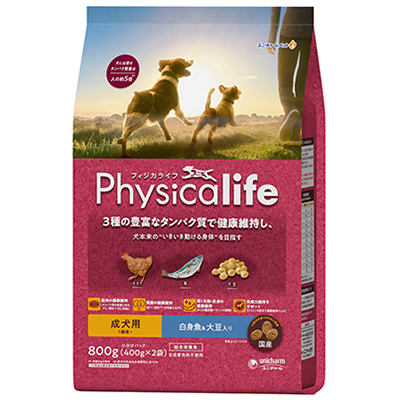 Physicalife
For adult dogs
white meat fish & soybean
Food that helps build the body and maintain healthy muscles in the whole body in the adult stage, with the aim of building a healthy body that doesn't easily gain extra weight.
In order to maintain healthy muscles in the whole body that are important in the adult stage, the food contains plenty of balanced protein from carefully selected ingredients (chicken, fish, and soybeans) in granules that are easily broken down in the stomach, with a protein digestion rate of 92.1% (research by Unicharm, analysis value is a typical example).
Contains separated soybean protein that provides sufficient amino acids that are used to build and maintain healthy muscles. It has also been proven that this food makes it possible to control weight (patented).
Contains well-balanced and adjusted omega-6 and omega-3 fatty acids that maintain glossy fur and healthy skin.
Formulated with vitamin E to help support the immune system.
flour, beans (Soy protein, soybean extract), animal fats and oils, fish(fish extract,white meal fish powder), meats(chicken extract, poultry extract), cellulosepowder, beet pulp, yeast extract, minerals(calcium, chlorine, copper, iron, iodine, potassium, phosphorus, zinc), amino acids (taurine), vitamin(A, B1, B2, B12, D, E, K, choline, pantothenic acid), milk calcium, L-carnitine, antioxidants(mixed tocopherol, herb extract)
●Flour, the first ingredient, is appropriately heated and pressurized so that it can be sufficiently digested.
●Flour and beans are valuable sources of carbohydrates, dietary fiber, oligosaccharides, and essential fatty acids.
Guaranteed nutrition analysis value

| | |
| --- | --- |
| Protein | 28.0% or more |
| Fat | 12.0% or more |
| Crude fiber | 4.5% or less |
| Crude ash | 8.5% or less |
| Water | 10.0% or less |
| vitamin A | 7500IU/kg or more |
| vitamin D | 750IU/kg or more |
| vitamin E | 75IU/kg or more |
| vitamin B1 | 2.0mg/kg or more |
| vitamin B2 | 4.4mg/kg or more |
| vitamin B6 | 2.0mg/kg or more |
| vitamin B12 | 0.044mg/kg or more |
| | |
| --- | --- |
| calcium | 0.75% |
| phosphorus | 0.60% |
| sodium | 0.35% |
| magnesium | 0.10% |
| zinc | 200mg/kg |
| | |
| --- | --- |
| Energy | approx. 360 kcal per 100 g |