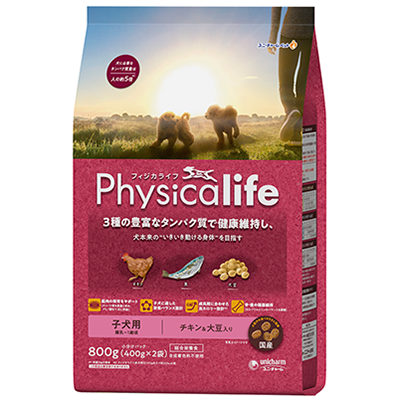 Physicalife
For puppy
chicken & soybean
Food that helps build the body and supports the development of muscles in the puppy stage, with the aim of building a strong and healthy body.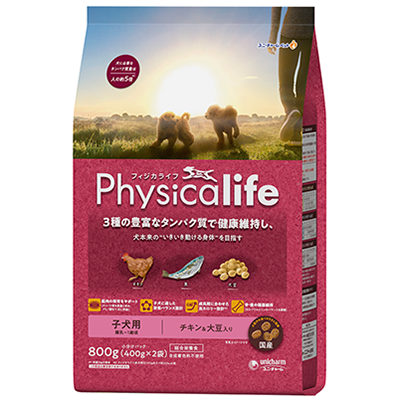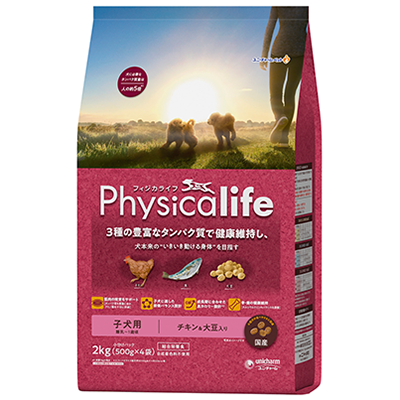 In order to maintain healthy muscles in the whole body that are important in the puppy stage, the food contains plenty of balanced protein from carefully selected ingredients (chicken, fish, and soybeans) in granules that are easily broken down in the stomach, with a protein digestion rate of 89.1% (research by Unicharm, analysis value is a typical example).
Nutritional balance is designed to be suitable for puppies up to about 12 months old.
High-calorie design adjusted for the growth stage (has approximately 20 more calories per 100 g compared to Physicalife for adult dogs).
Contains milk calcium, and the balance of calcium and phosphorus has been adjusted to maintain healthy bones and teeth.
flour、meats(chicken meal、chicken extract, poultry extract),ainimal fats and oils, fish(fish extaract,fish meal), beans (Soy protein、soybean extract), cellulosepowder、beet pulp、yeast, minerals(calcium、chlorine、copper、iron、iodine、potassium、 phosphorus、and zinc)、 milk calcium、amino acids (taurine)、vitamin(A、B1、B2、B6、B12、D、E、K、choline、pantothenic acid)、 antioxidants(mixed tocopherol、herb extract)
●Flour, the first ingredient, is appropriately heated and pressurized so that it can be sufficiently digested.
●Flour and beans are valuable sources of carbohydrates, dietary fiber, oligosaccharides, and essential fatty acids.
Guaranteed nutrition analysis value

| | |
| --- | --- |
| Protein | 28.0% or more |
| Fat | 16.0% or more |
| Crude fiber | 4.5% or less |
| Crude ash | 8.5% or less |
| Water | 10.0% or less |
| vitamin A | 9000IU/kg or more |
| vitamin D | 900IU/kg or more |
| vitamin E | 150IU/kg or more |
| vitamin B1 | 2.5mg/kg or more |
| vitamin B2 | 5.5mg/kg or more |
| vitamin B6 | 2.5mg/kg or more |
| vitamin B12 | 0.055mg/kg or more |
| | |
| --- | --- |
| calcium | 1.30% |
| phosphorus | 1.05% |
| sodium | 0.35% |
| magnesium | 0.10% |
| and zinc | 200mg/kg |
| | |
| --- | --- |
| Energy | approx. 380 kcal per 100 g |