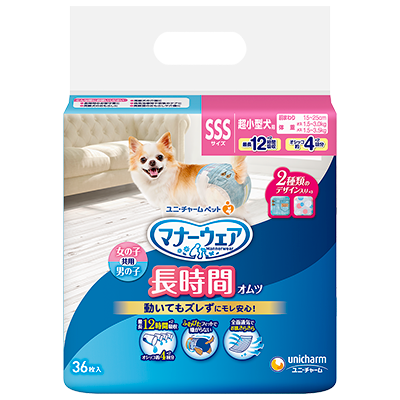 Manner Wear
Pet diaper
SSS size
Unicharm Pet Manner Wear diapers for both male and female dogs solves incontinence problem, fitting snugly even when in motion.
| | |
| --- | --- |
| 内容量 | Trial Pack: 3 sheets / 36 sheets |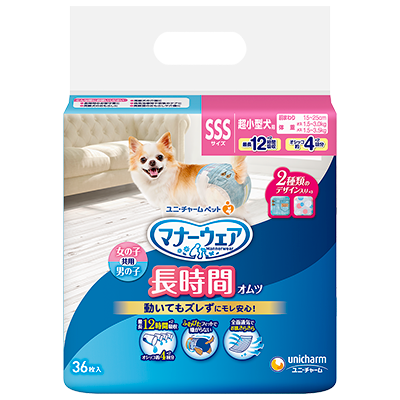 Disposable diaper that is snug, soft on the skin and holds up for many hours
Solves incontinence and fits snugly simply by wrapping.(For both genders)
"Safe & powerful absorbent" assures leakage prevention even in extended use (absorbs as long as 12 hours# equivalent to total quantity of urine for peeing 4 times).
Comes in a denim pattern and a dot pattern* Depending on manufacturing and engineering circumstances, there may not be an equal amount of each pattern in every package. Some products may have another design one end.b
It fits snugly, so they won't be fussy.
Soft and dry absorbent sheet, with silk-like fiber that is used in baby diapers, is gentle to the touch.
Surface material:Polyolefin & nonwoven polyester fabric / Water absorbers:Absorbent paper, fluff pulp & super absorbent polymer / Waterproofing material:Polyethylene film / Fastening material:Polyolefin / Elastic material:Polyurethane / Adhesion material:Hot melt adhesive / Packaging material:Polyethylene (polypropylene in case of Trial Pack)